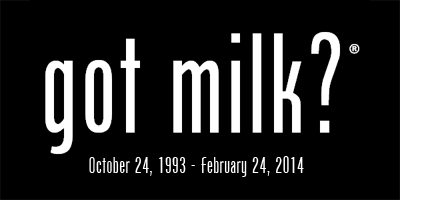 In October of 1993, the California Milk Processor Board launched a TV spot created by San Francisco's Goodby, Silverstein & Partners – about a nerdy history buff who couldn't enunciate the answer to a radio trivia question, Who killed Alexander Hamilton?, because his mouth was stuffed with a peanut butter sandwich and he didn't have a glass of milk to wash it down. It was the first of many brilliant ads in what a whole lot of veterans in the ad biz regard as one of the greatest ad campaigns ever.
Two years later, the Milk Processor Education Program (MilkPEP), the national milk processors' promotional group, licensed got milk? and distributed it nationwide.
Backing up the TV spots was a long series of print ads and posters featuring celebrities with milk mustaches.
By the mid-nineties, 91% of adults surveyed in the U.S. were familiar with the campaign and its tagline – which was repurposed or spoofed countless times, "got Jesus" to "got democracy?", the headline of an anti-Iraq War poster.
But there was a problem: got milk? didn't actually get people to buy more milk
Daily consumption of fluid milk—as opposed to milk-based products like cheese, yogurt, and butter— steadily declined from 0.96 cups per person in 1970 to 0.59 cups in 2011.
Between 1977-78 and 2007-08, the number of children who did not drink milk on a given day rose from 12% to 24%.
Americans born in the 1990s are less likely to drink fluid milk with lunch and dinner than their counterparts born in the 1970s, a USDA report announced last year.
So MilkPEP has dumped got milk? – and replaced it with "Milk Life," a new campaign focusing on nutritional and (hence) life benefits of milk. (Ho hum. Will it move the needle? Not much, I expect. MilkPEP may be right: a lot of folks probably don't know that milk is a source of protein. But that isn't the reason people aren't drinking as much milk as they used to...)
Is there a moral to this story?
In an interview with AdWeek, Jeff Goodby recounted the origins of got milk?
Milk, he said, "is perhaps the most boring product imaginable…Milk is not new. It is not improved. It is white."
So here's what happened. Goodby and some colleagues were at a focus group when the clouds parted. A woman said, "The only time I even think about milk is when I run out of it." Goodby scrawled "got milk?" on a poster board and decided it might be a tagline. Silverstein set the line in its now-famous font, then little-known, Phenix American – and the rest was history-making.
Maybe the moral boils down to this: When the ads themselves are more engaging than the advertised product (or brand), results may disappoint.
But got milk? was still a great campaign – an exemplar that both inspires and humbles those of us who toil in advertising's hinterland vineyards.
You'll find an interesting account of how got milk? happened in Truth, Lies & Advertising, the 1998 book still very much worth reading by Jon Steel, the GSP account planner involved in the project.
Douglas B. Holt, L'Oreal Professor of Marketing at Oxford (if you please), in his detailed and laudatory "case study" of got milk? says that in 1994, the year after the got milk? launch "California's milk sales increased for the first time in over a decade, to 755 million gallons from the previous year's 740 million."
got milk? even has its own Wikipedia article.
RIP