"WindChoice – Roper," a print ad created by HKH for Public Service Company of Oklahoma, has been recognized as the best print ad in the U.S. utility industry in the 2011 E Source Utility Ad Awards Contest.
The contest was open to U.S. and Canadian electric and gas utilities. An independent group of judges selected the winners based on ad effectiveness, objectives, message, memorability, and creativity. The judges were Hunter Marshall, president, The Block and Tackle Group; Mindy Cheval, senior instructor of advertising, University of Colorado at Boulder, School of Journalism and Mass Communication; Kristin Apple and Kevin Malloy, Egg Strategy; and Joe Fallon, independent advertising consultant.
According to the contest sponsor, a record-breaking number of entries were received this year from utilities across the U.S.
Winners were honored at a special awards luncheon at the 24th Annual E Source Forum held in Denver, Colorado last September.
The WindChoice – Roper ad carries into print a message also delivered in 30-second TV and radio spots. Both the print ad and the TV spot feature a PSO employee, Jared Baldwin – who happens to be both an experienced rodeo cowboy and a feature film stuntman, appearing in such films as The Patriot, starring Mel Gibson.
WindChoice lets PSO customers put infinitely renewable, homegrown Oklahoma wind power to work in their homes and businesses for as little as six cents a day extra. By purchasing WindChoice, customers help conserve non-renewable resources, reduce the environmental impact of electricity generation, and show their support for Oklahoma's fast-growing wind power industry. WindChoice is the first Oklahoma utility renewable program to receive Green-e Energy® certification from the Center for Resource Solutions, assuring customers that WindChoice meets strict environmental and consumer protection standards. Sign up for WindChoice here.
Public Service Company of Oklahoma, a unit of American Electric Power, is an electric utility serving more than 530,000 customers in eastern and southwestern Oklahoma. Learn more about PSO here.
E Source has provided energy business intelligence to over 300 utilities and large energy users for more than 20 years. Read the E Source news release on the 2011 Ad Awards Winners here.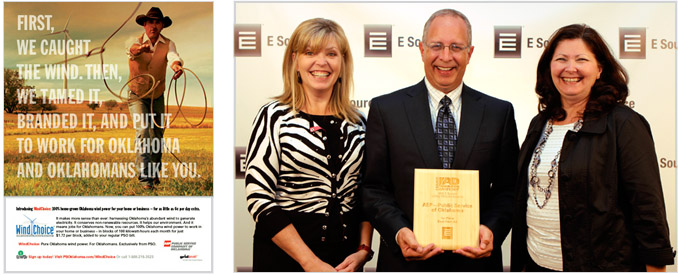 1st Place: 2011 Best Utility Print Ad. Receiving the award (l – r): Dawn Casey, PSO Consumer Programs / WindChoice Program Manager, Stan Whiteford, PSO Corporate Communications, and Kathy Champion, PSO Consumer Programs.