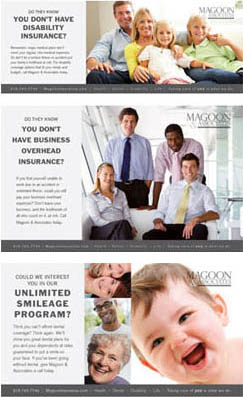 Magoon & Associates has launched an innovative print and online ad campaign to reinforce brand and product awareness in its marketplaces, with a focus on affordable dental and disability insurance options.
One print ad features a photo of a happy, smiling family – 30-something parents and gorgeous kids – with the headline, "Do They Know You Don't Have Disability Insurance?"
A companion ad – targeting prospects for insurance covering business overhead expenses in cases of leadership illness or disability – takes a similar approach. Over a happy small-business group, the ad asks, "Do They Know You Don't Have Business Overhead Insurance."
To deliver a message about affordable dental insurance, yet another ad features miles of smiles – a baby whose teeth have yet to come in, teens, a young man and an older lady – with the headline "Could We Interest You In Our Unlimited Smileage Program?"
Targeted online advertising reinforces the print.