Longtime HKH client, Harsco Industrial Air-X-Changers (Harsco AXC) – the world leader in natural gas compression cooling systems – has launched an innovative new trade publication advertising campaign.
Rather than the same-old, same-old ads usually found in natural gas industry trade publications, HKH created high-impact "mini-posters" delivering a variety of messages that set Harsco AXC apart: unequaled experience, a half-century track record of industry leadership, innovation – and products that are simply better designed and built for long-term performance and reliability no other coolers can match.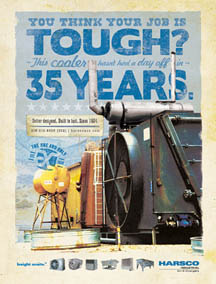 The first ad in the campaign – designed around a "vintage" cooler photo – carries the headline: "You Think Your Job Is Tough? This Cooler Hasn't Had A Day Off In 35 Years."
International industrial giant Harsco has owned the company for decades – and two years ago, the firm known since 1954 as "Air-X-Changers" or "AXC" was rebranded under its current name. To connect the relatively unfamiliar new brand with the company's long history and half-century of brand-strength, a "brand graphic" featuring the original AXC logo and the legend "The One And Only – Est. 1954" appears in each of the ads.
Striking out strongly in a new advertising direction made special sense this year, when a dynamic new leadership team has taken the reins at Harsco AXC, led by General Manager Eric Clower.
The campaign will continue with a series of poster-like ads in throughout 2012.