Fans of Tulsa Drillers baseball will be introduced to a major corporate player this season: Harsco, the parent company of longtime HKH client Harsco Industrial Air-X-Changers (HAXC) and its new affiliate, Harsco Industrial Hammco.
Visitors inside the stadium will see a new, backlit Harsco sign designed by HKH, atop the landmark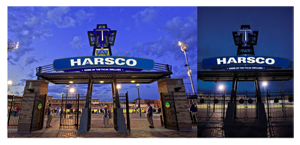 "derrick gateway" exit from the Drillers stadium.
During each of the season's 72 home games, Harsco will sponsor a "Harsco RBI Inning" announced by a special video on the giant stadium scoreboard as well as on LED "ribbons" encircling the stadium. If a Harsco RBI is scored in one of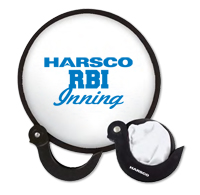 Drillers "Fireworks Nights" games, Harsco will donate $100 to the American Red Cross – Eastern Oklahoma Region. If an RBI is batted in during a Harsco RBI Inning in any other game, fans will receive special prizes.
In May, a Harsco Game will celebrate HAXC's 60th Anniversary and welcome Harsco Industrial Hammco employees to the Harsco family.